To celebrate St. George's Day, we're celebrating England's long and decorated history of producing great cars by looking back at the finest English cars ever produced.
From as early as the 1800s, England and more broadly, Britain has been designing and building cars and by the 1950's it was the largest manufacturer of cars in Europe, second only to the US in the whole world.
With over 120 years and millions of world-famous, much-loved vehicles being made, there are plenty to choose from.
Whether you're a fan of classic cars, quintessentially British models or you prefer modern powerhouses, we're sure you'll have an idea of what your favourite is.
Like all 'greatest' lists, there is always plenty of debate about what is exactly defines greatness but we're going to be looking at the cars that were innovative and beautiful, that entered the collective consciousness, ones that sold more than just the odd few and of course, cars that have made this nation proud.
#10 Bentley T-Series
Starting off in the swinging sixties, the Bentley T-Series offered owners a classically English understated and reserved version of the popular Rolls Royce Silver Shadow.
With a simpler, more refined and less in your face front grille, the Bentley version was everything the world expected from an English car.
Smooth, stunning, and surprisingly streamline for a vehicle of its size, the T-Series may not be one of the most well-known cars in this list but its design and elegance is more than enough reason for it to be included on this list.
#9. Triumph Spitfire
While there may have a little bit of European influence in the Spitfire with a model created by legendary designer Giovanni Michelotti, it's very much an English car with its roots in Coventry – a hotbed of motor production in the 50s and 60s.
After initially being shelved due to financial troubles at Triumph, the Spitfire prototype was discovered in the corner of a factory by the companies new owners and it quickly became clear that they'd stumbled across something special.
With over 300,000 models sold in the cars 18-year history, the Spitfire became more than just a standard sixties sports car and became a standard-bearer for the British car industry.
#8. MG MGB
The sixties were obviously the golden age of car design and manufacturing in the UK and so it's easy to see why the decade has dominated this list so far.
Next on our top ten is the MG MGB, a classic now but a car that was, in its day, considered an incredibly modern design and innovative build. Featuring brand new construction techniques and as one of the first cars to feature controlled crumple zones, the MGB was years ahead in terms of safety and design.
For a time, the roadster version was one of the world's bestselling sports car thanks to its sleek, chrome-bumpered appearance, innovative engineering, and breath-taking (for the time) 0-60 acceleration time of 11 seconds.
Whatever version you have or desire to have, the MGB will go down in history as the epitome of the classic English sports car.
#7. Land Rover Defender
For sheer longevity, the Land Rover Defender has few close competitors. From 1948 to 2016, the Land Rover continued to roll out the reliable 4×4. Built after World War Two, it gave owners everything they needed off-road while still being manageable on the tarmac.
With little changes in its 68 years of production, it's consistency means that early models are still just as useful today as they were when first produced.
The definition of an Englishman's steely resolve, the Defender wasn't flashy, but it sure worked hard. If you want a car that's guaranteed to get the job done, whatever the terrain, this should be your pick.
#6. Lotus Elise
The stripped-back, lightweight original Elise provided drivers with far more than they ever could have expected from the sum of its parts.
Built using Lotus's core principles of less is more, the Elise utilised affordable, super-light parts and an aluminium chassis that was glued together instead of welded to create a light-weight simple sports car which purred on the road.
In a decade of excess, this car gave the people a reasonably affordable sports car that came to define to the look and feel of the 90's and despite only a 5-year production period, it's still as sought-after years later.
#5. McLaren F1
Few would argue with this being called the best British supercar ever made. As one of the worlds fastest production car, it was certainly not a car for the working man, but a technical marvel that became the dream car for many.
A top speed of 240mph, a record that stood for over a decade, the F1 was built for the track with a modified race car edition of the vehicle winning the '95 Le Mans 24-hour race.
Now while many of us won't have had a hope in hells chance of owning one, it came to represent England and represent how this was the home of cutting-edge automotive achievement.
Despite its age, it has truly become timeless both from a design and a performance perspective.
#4. Austin Healey 3000
The best known of the 'Big Healey' models, the 3000 was arguably the most popular Austin Healey produced. Named after it's 3-litre engine, the car was one of the fastest, most powerful, and most luxurious cars of the late 50s, and early to mid-60s.
The sports convertible model, the Mark III was probably the most popular design and with a claimed top speed of 115mph, it offered the best of all worlds, a fast car that was both beautiful and comfortable.
An iconic car that would be the face of one of Britain's most famous car companies, the Austin Healey 3000 is, without doubt, one of the greatest cars ever produced in England.
#3. Jaguar E-Type
Ask most people to picture a traditional British sports car and without exception, the picture you'll get is a Jaguar E-Type. The insanely popular Jag was just as much a style icon in the 60s as Twiggy.
A beautiful and curvaceous design featuring that iconic long bonnet, it would be easy to think that the E-Type was style over substance but with a 3.8-litre engine that boasted 265 horsepower and a reported top speed of 150mph, there was plenty to enjoy under the bonnet and while behind the wheel.
Few can rival this for pure, unbridled cool and even fewer can claim to be THE car that defines the British sports car industry. Truly, an automotive legend.
#2. Original Mini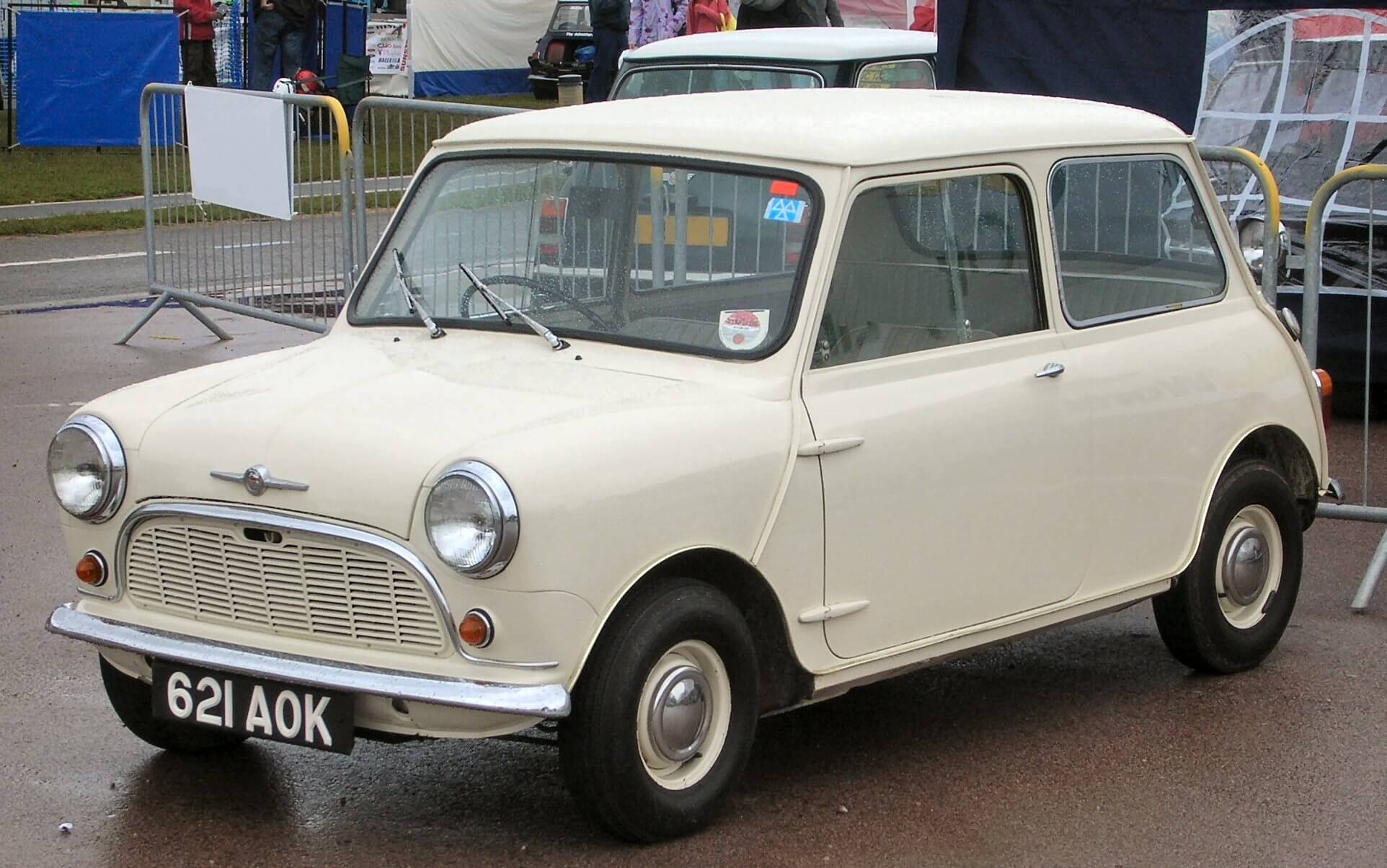 Recently voted the best British car of all time, the original Mini has gone beyond the motor industry to become a defining image of England just as much as the Queen or Big Ben.
Sure, it's never going to beat the E-Type in a race or a beauty contest but the Mini has gone beyond the status as simply a car, it's influential, it's loved, cherished and adored by Brits and people around the world alike.
A perfect example of how to utilise every inch of space, the car used a front-wheel engine layout to maximise the space inside for passengers. It always offered more than it could ever produce, a plucky underdog that the whole nation could get behind.
With over 40 years of production and over 1.5 million models of varying variety sold in Britain alone, the Mini truly is the car of the British public and of England's proudest achievements.
#1. Aston Martin DB5
Do we need to say more than, this is James Bond's car?! And who are we to argue with 007. A car that became synonymous with the spy that was the epitome of British suave and sophistication.
Stunningly beautiful and packing a 282bhp 4.0L engine with a top speed of 145 mph, the DB5 had everything you could want from a motor in the 60s.
It's short production time of just two years and limited releases (just over 1,000) add to the overall appeal and dark mystique of the DB5. It wasn't on every street and that's what made us want it even more.
Sure, there are better cars and cars which sold more but no car can match the level of cool that the DB5 could offer.
You wanted to be seen driving one, the ultimate head turner. Whether you owned one, drove past one or just played with a matchbox toy version, you could, even for a split second picture yourself as Bond, James Bond.