Find out where and where not to take your test
Driving test results show that the chances of learner drivers passing can vary depending on where they live in the UK. Our latest research shows the UK has an overall 46% pass rate when it comes to learners sitting their practical driving test, but the discrepancy in pass rates across the country is immense, with the top performing region boasting more than double the pass rate of the worst performing.
For example, from 2019-20 only three in ten learner drivers passed their test in Rochdale, Greater Manchester (31%) and Erith in London (32%). The former had the lowest success rate in the country, with just 2,145 people out of 6,969 people passing their driving test.
Move to Kendal in Cumbria or Peterhead in Aberdeenshire and the success rate for learner drivers increases to 63%. Of course, location alone doesn't determine how likely you are to pass your driving test. However, our research shows that the lowest driving test pass rates in the UK are in urban areas such as London, Birmingham, Manchester, and Leeds.
In contrast, rural areas such as the Lake District, Dorset, and Somerset have higher pass rates, as they are less likely to encounter heavy traffic, one-way systems, dual carriageways, and many of the other obstacles found in heavily urbanised cities.

The most common mistakes that result in failure
The DVSA recently revealed the top reasons that UK learner drivers fail their driving test. These were found to be:
Not making effective observations at junctions
Not using mirrors correctly when changing direction
Not having proper control of the steering
Incorrect positioning when turning right at junctions
Not moving off safely
Not responding appropriately to traffic lights
Poor positioning on the road during normal driving
Not responding correctly to traffic signs
Not having control of the vehicle when moving off
Not keeping control of the vehicle during reverse parking
Peter Brabin, Head of Training at Bill Plant Driving School, commented: "What's somewhat surprising is that a lot of the most common test failures are some of the very first things you're taught when you get behind the wheel. That clearly just goes to show that maintaining a regular pattern of lessons is important to keep up the fundamentals. Nerves also play a part in the test experience which cause silly mistakes that you wouldn't expect.
"While we obviously want as many learner drivers passing their driving test and enjoying the freedom on the road that many of us are fortunate enough to enjoy, this just goes to show why it's imperative learner drivers are properly scrutinised on their test. None of us want unsteady, uncertain and unsafe drivers on the road, causing more accidents and issues and more rebooked driving tests."
The gender gap
When breaking the data down according to gender, men stand a better chance of passing. The national average pass rate for men is 50%. For women, the national average pass rate is 43%, seven percentage points below their male counterparts and three percentage points below the combined overall national average.
Remote testing centres perform the best
When small UK driving test centres are taken into account, the Isle of Mull in Scotland has the best pass rate. 17 people took their driving test in the Isle of Mull between 2019 and 2020 and all but two passed. That means it had a success rate of 88%.  It's a similar story for other minor test centres. Scotland's Isle of Tiree and Inveraray, as well as the Isles of Scilly off the coast of Cornwall, all have pass rates over 80%.
However, it's worth noting that these areas have less than five miles of A-roads. Therefore, for an accurate overview of the easiest and hardest places to pass your driving test, it's important to look at major centres.

Age is a factor in driving test success rates
Learner drivers in the UK can take their practical driving test from age 17 onwards. Data from the research showed that the youngest learners hold the highest average pass rate, with 17-year-olds boasting a 58% average pass rate in the UK. Those with more life experience were found not to perform as well, with almost three quarters (74%) of people aged 50+ failing. Those aged 60 years struggled the most, with 94% of tests taken resulting in failure. When drilling down on the data regionally, the East Midlands appears to be the hardest region to take your test if you are aged 50+, with 80% of tests ending in failure.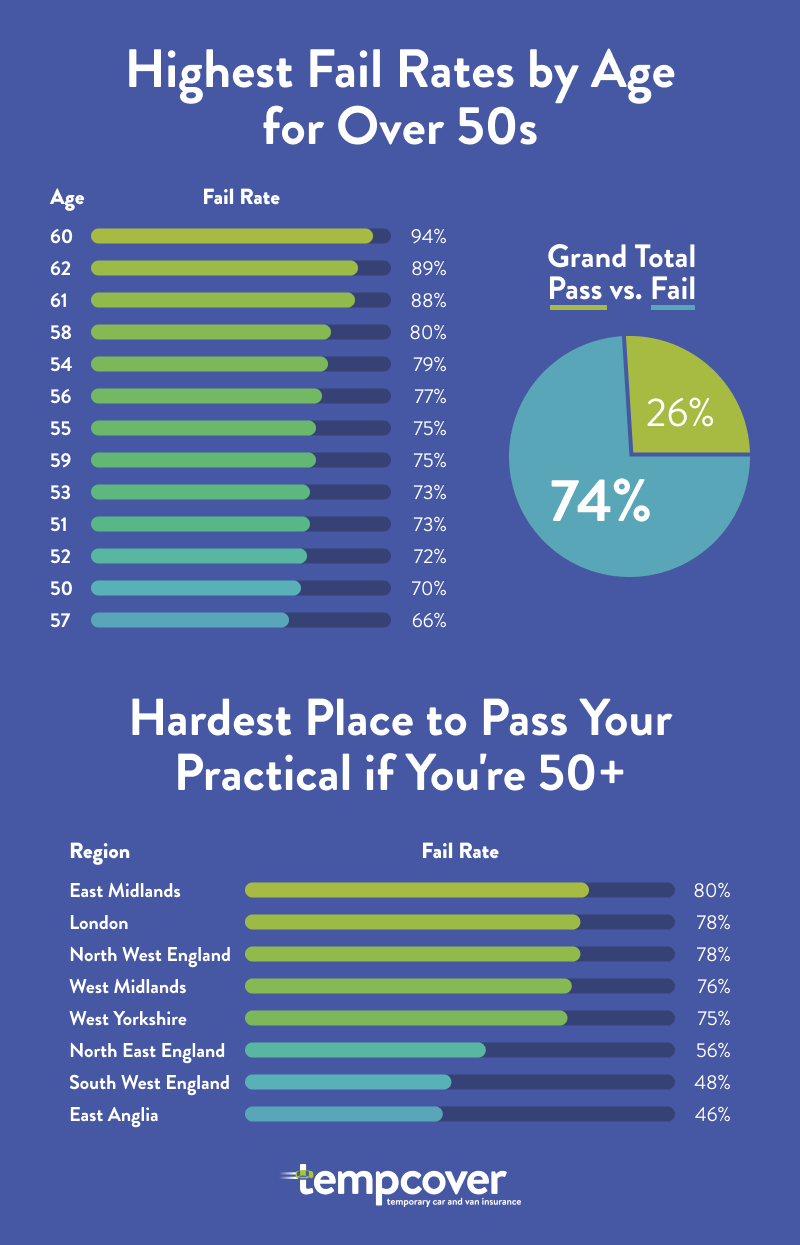 Timing and your test
On a national level, 56% of learner drivers who sat their practical test between 2pm and 2:59pm on Sunday passed – making this the best time and date statistically. The next best time to book a test was found to be 4pm to 4:59pm on either Tuesday or Friday, where the pass rate is a steady 53%.
Cheating is on the rise
Even before taking their practical test, some desperate or dishonest would-be drivers could be tempted to cheat their way through passing their theory test. In fact, the data revealed that cheating has skyrocketed over the years.
Our data revealed that 454 learners were caught cheating on their theory test 2013/14, whereas since 2018 over 1,000 people a year have been caught cheating. The period with the highest instances of cheating overall was 2018/19 where 1,522 people were caught out.
Despite Covid-19 restrictions greatly minimising the number of tests completed, a total of 1,167 people were still caught out for cheating, suggesting that this number could have been even higher than the previous period had testing centres operated at full capacity.
Earlier this year a man was arrested after he was found taking driving theory tests for other people by wrapping bandages around his head, claiming he had a 'head injury' to various test centre staff across the country!
According to a BBC report, the most common form of cheating on a practical driving test is to use an impersonator, who could charge as much as £1,600 to take a practical test for someone else.
It goes without saying that it is illegal to cheat on your practical or theory test. Anyone caught using someone else to assist them in taking their test, or using an impersonator (as well as the impersonators themselves) can be:
Sent to prison
Banned from driving
Ordered to carry out unpaid work
Made to pay court costs
In addition to being a criminal offence, cheating on a driving test also endangers the safety of other motorists, their passengers, and pedestrians as it enables unqualified drivers to be on the road. If you were found to have obtained your license by cheating, your car insurance policy could be invalidated as a result of you providing false or fraudulent information. This will increase your risk profile, which could have the knock-on effect of future policy costs increasing or, in the worst-case scenario, make you completely uninsurable.
Temporary learner driver insurance
Learner drivers are required by law to be insured to drive, but they often do not require long-term cover and it may be costly to add them to a friend or family member's policy. This is where temporary learner insurance comes in handy as it's flexible to suit your needs, with policies lasting anywhere from just 12 hours, one day up to 28 days. Our temporary learner insurance provides fully comprehensive cover on every policy, providing you with complete peace of mind while you hone your driving skills.
Research methodology
This research data was sourced by conducting a freedom of information (FOI) request from the Driving and Vehicle Standards Agency (DVSA), based on a survey of major UK centres where 1,000 people or more took their driving tests in 2020.
Citations & references